Design Inspiration
ercol style pod: a mindful reimagining of our living spaces
We would like to welcome Green Rooms Market as our guest blogger to ercol this month. @greenrooms_market
All about our collaboration with ercol and stylists L'Appartement to create a versatile space to live and work that improves mental wellbeing.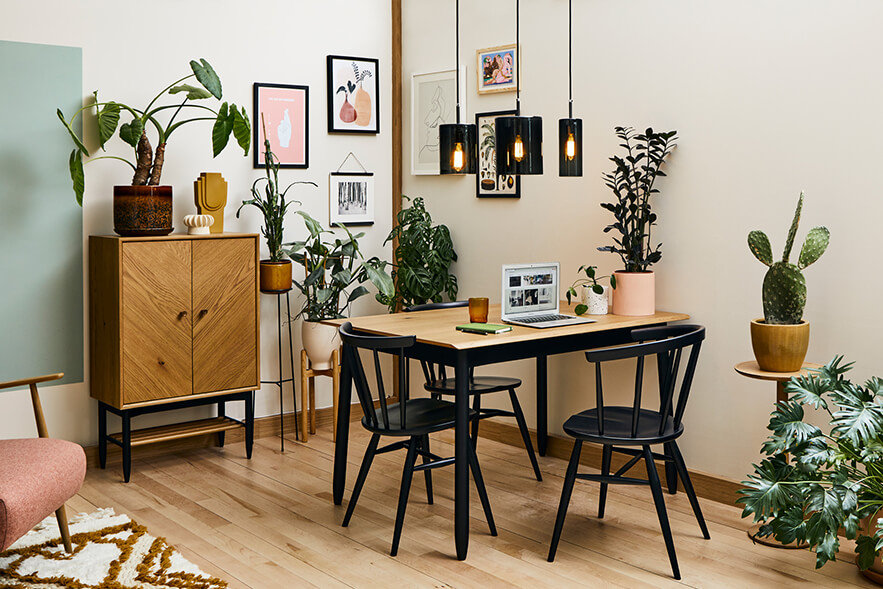 Exactly a year on from the first national lock-down, which has seen our lives change beyond recognition, we were honoured to be asked by ercol, the iconic brand synonymous with well-designed and exquisitely-made furniture, to transform a 'style pod' within their stunning showroom. The brief was to create an inspirational space celebrating spring whilst reflecting on the way we live now.
At Green Rooms we are true advocates for how our lives can be enriched by living with plants. The positive effects nurturing plants can have on our family's mental wellbeing is unquestionable. This has never been put into practice more than over the past year with our lives shrinking in around us.
We jumped at the chance to work with L'Appartement for this project, as we have long admired the way that the south London stylists mix eclectic interior pieces with abundant plants to create welcoming spaces, full of feeling.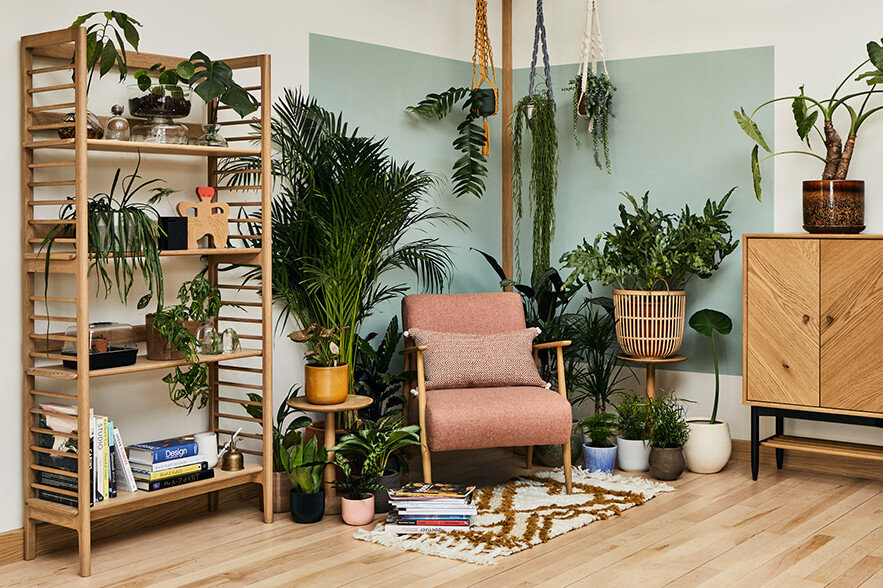 Within the style pod we are exploring the pertinent theme of how our homes have adapted to become a flexible place to work, live and ultimately enjoy spending more time in. It was really important to us to create a space that could accommodate this functionality whilst also being a calming, nurturing environment to ease the pressures of balancing work and family life.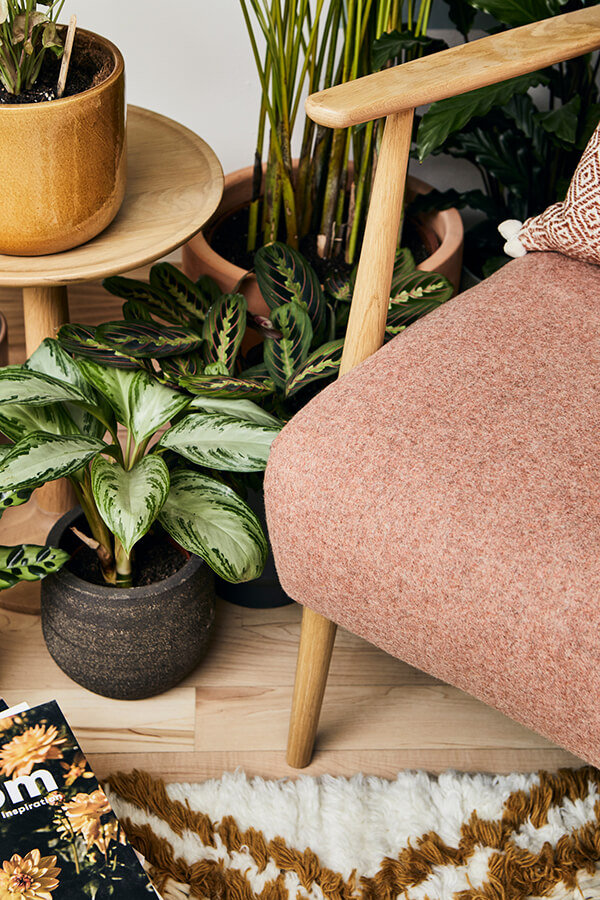 The furniture choices
We have chosen to use the pieces of ercol furniture that fit perfectly within a small, urban way of living. Rather than having a separate desk space, that many urban dwellers do not have the luxury of, we used the compact Monza small extending dining table. With its textured oak top and turned black legs it gave a modern look whilst not compromising on the functionality that we so need within our homes. The table can very quickly and easily extend to accommodate extra people or give more space for working or enjoying family life. We have chosen a selection of stunning black glass pendant lights called Brompton from Original BTC to create a striking focal point of the dining table, the heart of the home.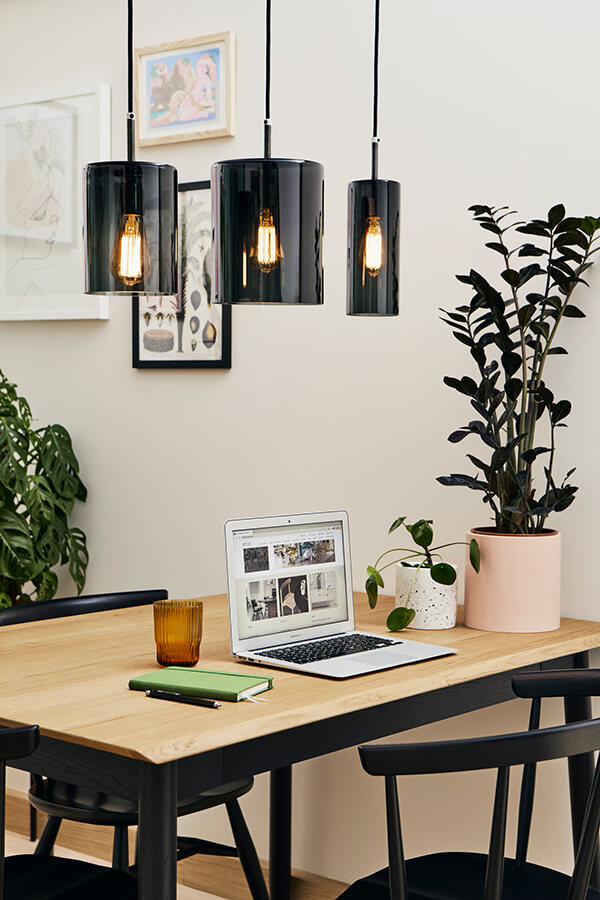 The ercol Monza Universal Cabinet leant itself neatly to this setting. Proportioned perfectly for a small corner or alcove, it is an ideal space to hide away laptops, school books or kids craft activities, ensuring a clear definition to the end of the working day, allowing for family meal-times to be enjoyed together without the distractions of work.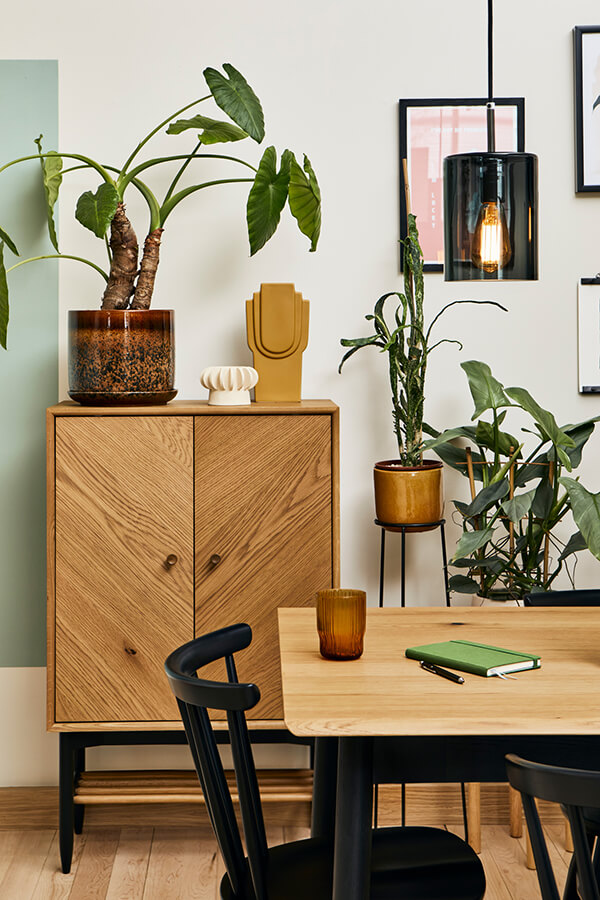 As we all know, working from home has both positives and negatives. Convenient as it may be to have our workspace now within our home, it can be tough to take the time away from our laptops resulting in the blurring of lines between home-life and work-life. With this in mind we found it really important to create a cosy and comforting nook within the style pod, encouraging us to step away from the screen, grab a book or simply have a cup of tea surrounded by plants instead of spreadsheets.
The Marlia chair and Ballatta shelving Unit both epitomise ercol's iconic style and allowed us to bring a sense of light and comfort to the space. We chose to use the accent colour of Aquamarine 138 by Little Greene to aid the sense of calm to this nook, styled specifically for relaxation and mental recuperation. This accent of green is complemented by the warm tone of Portland Stone Pale (155) part of the brand new 'Stone' collection by Little Greene in collaboration with the National Trust, a palette of timeless neutrals designed for bringing warmth and tranquillity.
Living with greenery
Plants not only add life and vitality to a space, they also bring key benefits to our lives. Nurturing a plant and watching it grow, whilst doing the small mindful jobs of watering, checking for new growth, repotting and propagating baby plants is hugely beneficial in focusing our minds away from the often frenetic pace of life. Plant care jobs can be shared by adults and children, imparting the importance of caring for nature onto the next generation which is surely a lesson as important as any. With the expert plant styling knowledge of L'Appartement we have used different heights, patterns and textures of plants to create interest and intrigue, whilst ensuring an achievable level of maintenance.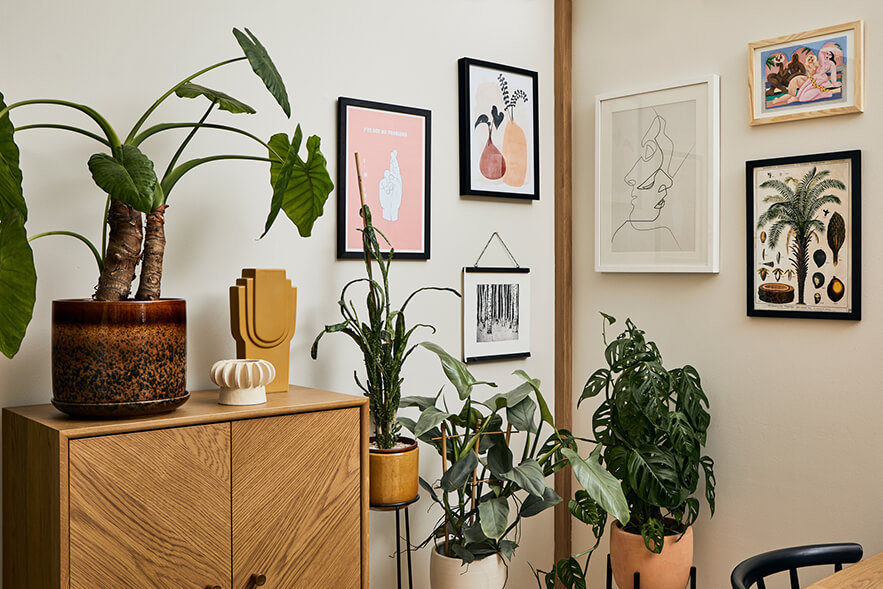 Supporting small independent brands
A real silver lining to the lockdowns has been the rise in people shopping from smaller independent businesses which are such a vital part of our economy and high streets. All the accessories that we have used within the style pod are from designer-makers and small, independent retailers. Be it the striking yellow stoneware vase from Att Pynta, or the hand-carved cork sculpture by Mind The Cork, the beautifully textured burnt oak Ikabana vase by Graen or the eclectic mix of artwork from Cuemars in East London.