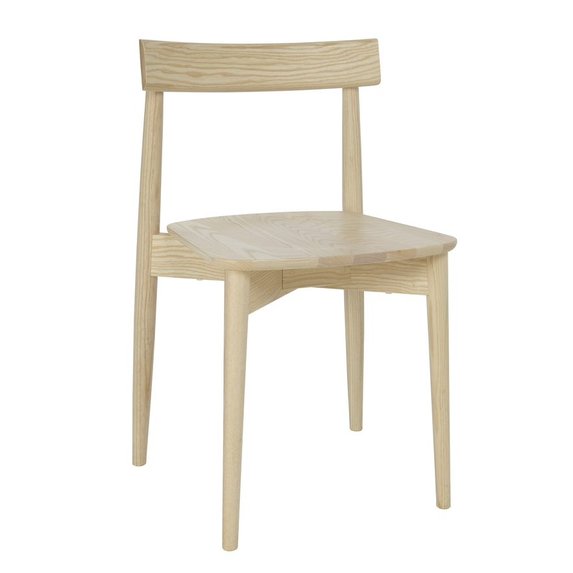 Ex Display
£234 RRP £360
Designed in 2016 with the hospitality industry in mind, the LARA CHAIR's balanced and unassuming appearance makes it well-suited to both domestic and commercial dining spaces. Designed to stack easily after use, the LARA CHAIR is the consummate embodiment of Dylan Freeth's technical abilities and values as a designer. Boasting a steam-bent backrest and subtle, crafted details, the chair's dished seat panel provides a comfortable and reliable base, allowing users to focus on the nourishment and sustenance of dining. The soft tactility of the LARA CHAIR's surface makes it an inviting accompaniment to a wide array of gastronomic environments, including urban cafes, fine-dining restaurants and intimate bistros.
Product Code

Description
Product Dimensions Width: 49cm Depth: 46cm Height: 78cm Seat Height: 47cm Seat Depth: 43cm
Wood is a natural material, consequently the grain pattern will vary from piece to piece.
Cabinets and chests over 60cm tall should be fixed to the wall to ensure stability, anti-tip kits with fixtures will be provided. The fixing of these pieces to the wall will not be carried out by our delivery partner. Please follow the product instructions and immediately attach to a wall as stated.
Upholstered furniture, images and the fabric visualiser are designed to act as a guide of how a piece will look. Pattern placement, exact colour and texture of a fabric can vary from this.
Before ordering, we recommend viewing the fabric and wood finish in store and ordering samples to view at home.
While we endeavour to ensure that the stated dimensions are as accurate as possible, due to manufacturing tolerances, these may vary slightly.
Mattresses
ercol mattresses are made to order, and it is for this and reasons of hygiene, that we are unable to refund or replace any of our mattresses. This does not affect your statutory rights or apply if the product is faulty. Since the selection of a mattress is a very personal decision, we strongly recommend that you try the mattress in store, or here in the ercol showroom, prior to ordering. While we endeavour to ensure stated dimensions are as accurate as possible, due to manufacturing tolerances, these may vary slightly.