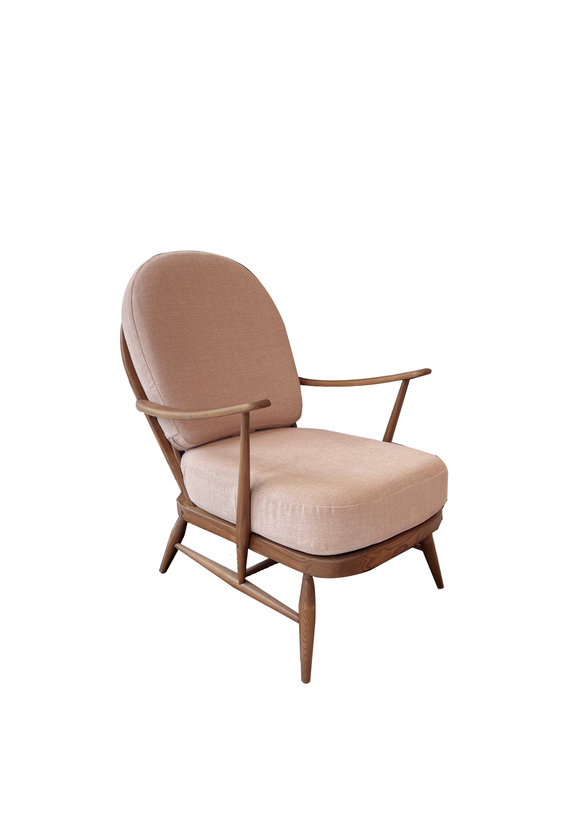 Discontinued - Brand New
£650 RRP £1,505
A 1956 catalogue extols "the friendly feel of solid wood". Ercol's distinctive 206 Easy Chair bears all the hallmarks of Ercolani's design. It was produced as part of the Originals collection, an evolution of the more classic Windsor range, which was phased out of production throughout the 1950s and 60s. Ercol Originals typified mid-century British manufacturing: made from Buckinghamshire beech and elm, they integrated craftsmanship with the values of industrial production. The 7206 is low to the ground, with large foam cushions emphasising its arched back and concealing the leather webbing beneath. Its arms, gently fluting upwards, have thumb-moulded edges; these tapered surfaces are Ercol's signature, spotted on chair arms and table tops across the collection.
Product Code

Description
W 71CM D93 CM H40 CM
Wood is a natural material, consequently the grain pattern will vary from piece to piece.
Cabinets and chests over 60cm tall should be fixed to the wall to ensure stability, anti-tip kits with fixtures will be provided. The fixing of these pieces to the wall will not be carried out by our delivery partner. Please follow the product instructions and immediately attach to a wall as stated.
Upholstered furniture, images and the fabric visualiser are designed to act as a guide of how a piece will look. Pattern placement, exact colour and texture of a fabric can vary from this.
Before ordering, we recommend viewing the fabric and wood finish in store and ordering samples to view at home.
While we endeavour to ensure that the stated dimensions are as accurate as possible, due to manufacturing tolerances, these may vary slightly.
Mattresses
ercol mattresses are made to order, and it is for this and reasons of hygiene, that we are unable to refund or replace any of our mattresses. This does not affect your statutory rights or apply if the product is faulty. Since the selection of a mattress is a very personal decision, we strongly recommend that you try the mattress in store, or here in the ercol showroom, prior to ordering. While we endeavour to ensure stated dimensions are as accurate as possible, due to manufacturing tolerances, these may vary slightly.