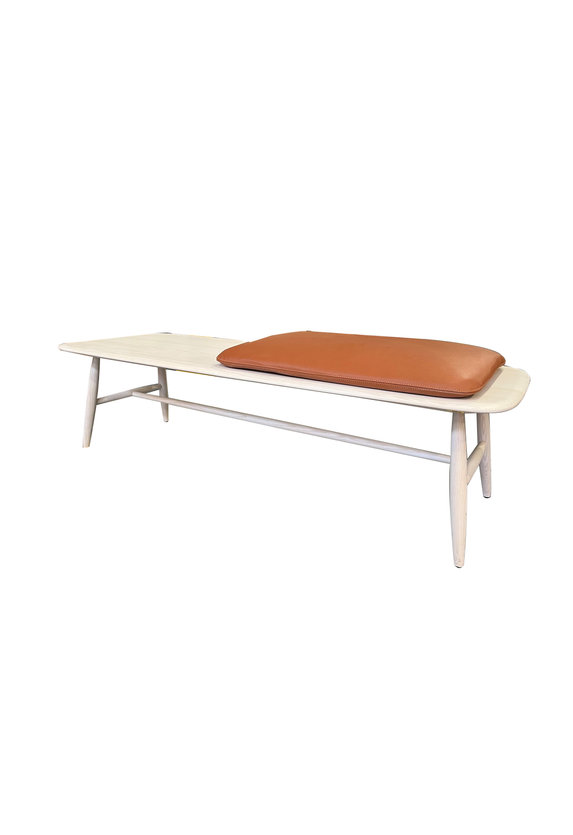 Ex Display
£650 RRP £1,760
Product Description With today's rapid developments in technology, the world is progressively transitioning to a more fluid understanding of dining, living and working environments — and all the spaces that fall in-between. Inspired by Lucian Ercolani's archival 427 Chair, the VON COLLECTION addresses this shift in a signature blend of timeless functionality and bespoke craftsmanship. Designed by Hlynur Atlason in 2018, the VON COLLECTION is an attractive addition to L.Ercolani's versatile portfolio of multifunctional pieces for modern living, working and playing. The generous curves of the VON BENCH offer an inspiring retreat from everyday life — perfect for reading, socializing and leisurely reclining. With endless configurations and possible applications, the bench's modular form can be easily adjusted to accommodate users' preferences and needs. As a final, courteous touch, the VON BENCH can be outfitted with a tasteful seat pad which, once removed, transforms the bench into a sophisticated coffee table. The elongated, rectangular profile of the VON BENCH pays reference to its archival inspiration, deftly combining form, strength and pure tactility to create a refined, timeless piece of furniture. Gently tapered wooden legs flanked by twin support beams guarantee the sturdiness of the VON BENCH's foundation, subtly reinforced by a delicate, low-slung spindle connecting the two halves.
Product Code

Description
Country of Origin UK Product Dimensions Width: 150cm Depth: 55cm Height: 48cm Seat Height: 48cm Seat Depth: 55cm Product Weight 16.5kg Assembly Fully Assembled Packaged Dimensions 42.5cm (L) x 154cm (W) x 59cm (H). 18kg
Wood is a natural material, consequently the grain pattern will vary from piece to piece.
Cabinets and chests over 60cm tall should be fixed to the wall to ensure stability, anti-tip kits with fixtures will be provided. The fixing of these pieces to the wall will not be carried out by our delivery partner. Please follow the product instructions and immediately attach to a wall as stated.
Upholstered furniture, images and the fabric visualiser are designed to act as a guide of how a piece will look. Pattern placement, exact colour and texture of a fabric can vary from this.
Before ordering, we recommend viewing the fabric and wood finish in store and ordering samples to view at home.
While we endeavour to ensure that the stated dimensions are as accurate as possible, due to manufacturing tolerances, these may vary slightly.
Mattresses
ercol mattresses are made to order, and it is for this and reasons of hygiene, that we are unable to refund or replace any of our mattresses. This does not affect your statutory rights or apply if the product is faulty. Since the selection of a mattress is a very personal decision, we strongly recommend that you try the mattress in store, or here in the ercol showroom, prior to ordering. While we endeavour to ensure stated dimensions are as accurate as possible, due to manufacturing tolerances, these may vary slightly.