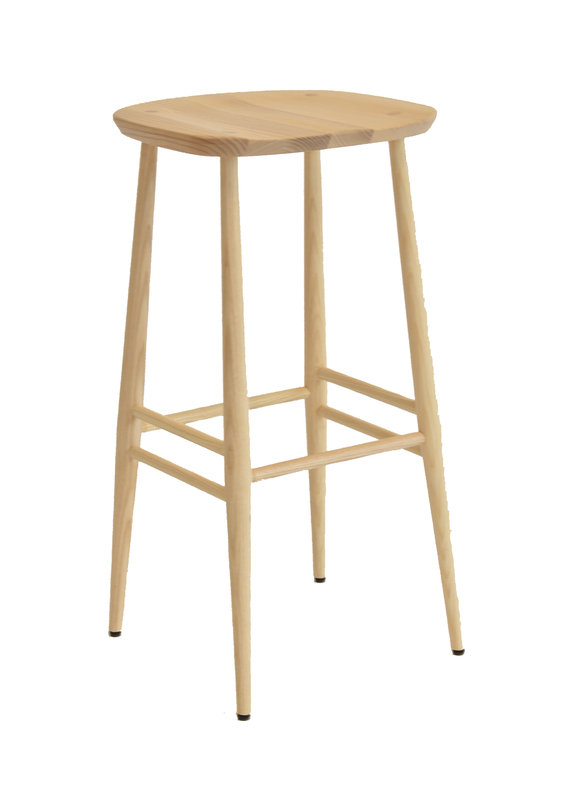 Discontinued - Brand New
£160 RRP £300
Product Description The philosophy behind Lucian Ercolani's early designs is simple — enduring, timeless design, constructed using humble, straightforward materials and hand-built to last for generations. With these values in mind, Lucian Ercolani created the iconic UTILITY BAR STOOL in 1956, marking a new and defining chapter in British design history. The UTILITY BAR STOOL is the taller variation of the classic UTILITY COUNTER STOOL, which was originally built as seating for L.Ercolani's team of designers when sketching in the factory. Today, some seventy years later, the stool remains a favourite of creators everywhere — championed by designers, architects and culinary creatives alike. Ergonomic and subtle, the UTILITY BAR STOOL's sleek, minimal profile effortlessly lends itself to any number of casual and professional environments — from domestic kitchens to corporate workspaces and beyond. A classic characteristic of traditional Windsor craftsmanship, the UTILITY BAR STOOL features tapered, outward-facing legs and a moulded ash seat that accentuates the stool's agile build. Additionally, the UTILITY BAR STOOL boasts the iconic Windsor wedge & tenon joint — a trademark detail found in many of Lucian Ercolani's early works. In this classic technique, the stool's legs are extended through the seat and secured with a wedge. These joints are then sanded until they lie flush with the seat to create an incredibly durable, reinforced base, built to withstand the wear and tear of everyday use. Manufactured in solid ash, the UTILITY BAR STOOL is offered in nine bespoke finishes, including a soothing natural finish and the new, bold MODERN TONES series by Christian Møller Andersen.
Product Code

Description
Product Dimensions Width: 39cm Depth: 37cm Height: 75cm Seat Height: 75cm Seat Depth: 37cm Product Weight 5kg
Wood is a natural material, consequently the grain pattern will vary from piece to piece.
Cabinets and chests over 60cm tall should be fixed to the wall to ensure stability, anti-tip kits with fixtures will be provided. The fixing of these pieces to the wall will not be carried out by our delivery partner. Please follow the product instructions and immediately attach to a wall as stated.
Upholstered furniture, images and the fabric visualiser are designed to act as a guide of how a piece will look. Pattern placement, exact colour and texture of a fabric can vary from this.
Before ordering, we recommend viewing the fabric and wood finish in store and ordering samples to view at home.
While we endeavour to ensure that the stated dimensions are as accurate as possible, due to manufacturing tolerances, these may vary slightly.
Mattresses
ercol mattresses are made to order, and it is for this and reasons of hygiene, that we are unable to refund or replace any of our mattresses. This does not affect your statutory rights or apply if the product is faulty. Since the selection of a mattress is a very personal decision, we strongly recommend that you try the mattress in store, or here in the ercol showroom, prior to ordering. While we endeavour to ensure stated dimensions are as accurate as possible, due to manufacturing tolerances, these may vary slightly.