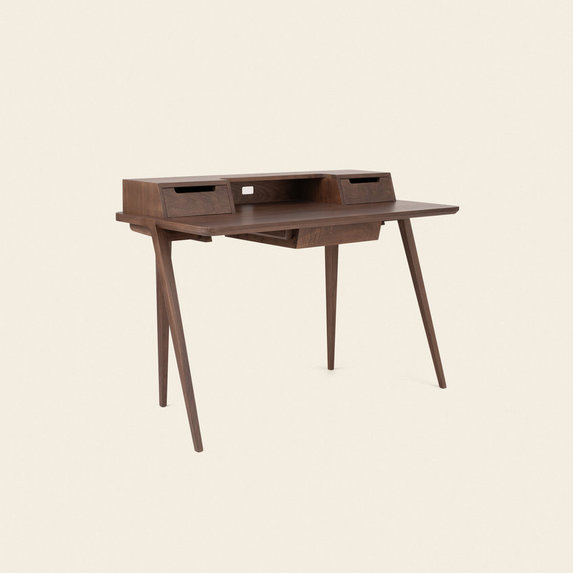 Ex Display
£1,200 RRP £2,790
The TREVISO DESK by Matthew Hilton imparts a rich, tactile quality of timelessness, elegance and durability. Launched in 2009, the clean, angular lines and subtle, ergonomic details of the TREVISO DESK make for a striking and functional workstation — perfect for creative professionals, dedicated scholars and remote workers alike. Designed to enhance and increase productivity, the TREVISO DESK is a seamless complement to L.Ercolani's versatile portfolio of chairs and modular workplace solutions. Unapologetically angular and geometric in form, the desk boasts a distinctive oblique profile with tilted wooden legs and discrete, built-in drawers. The bold, architectural integrity of the TREVISO DESK draws awareness to the haptic, grounding qualities of natural wood. Offered in a rich, walnut and pale oak, the TREVISO DESK's calming materiality complements a wide array of contemporary living and working spaces.
Product Code

Description
Width: 122cm Depth: 59cm Height: 86cm Solid Walnut
Wood is a natural material, consequently the grain pattern will vary from piece to piece.
Cabinets and chests over 60cm tall should be fixed to the wall to ensure stability, anti-tip kits with fixtures will be provided. The fixing of these pieces to the wall will not be carried out by our delivery partner. Please follow the product instructions and immediately attach to a wall as stated.
Upholstered furniture, images and the fabric visualiser are designed to act as a guide of how a piece will look. Pattern placement, exact colour and texture of a fabric can vary from this.
Before ordering, we recommend viewing the fabric and wood finish in store and ordering samples to view at home.
While we endeavour to ensure that the stated dimensions are as accurate as possible, due to manufacturing tolerances, these may vary slightly.
Mattresses
ercol mattresses are made to order, and it is for this and reasons of hygiene, that we are unable to refund or replace any of our mattresses. This does not affect your statutory rights or apply if the product is faulty. Since the selection of a mattress is a very personal decision, we strongly recommend that you try the mattress in store, or here in the ercol showroom, prior to ordering. While we endeavour to ensure stated dimensions are as accurate as possible, due to manufacturing tolerances, these may vary slightly.