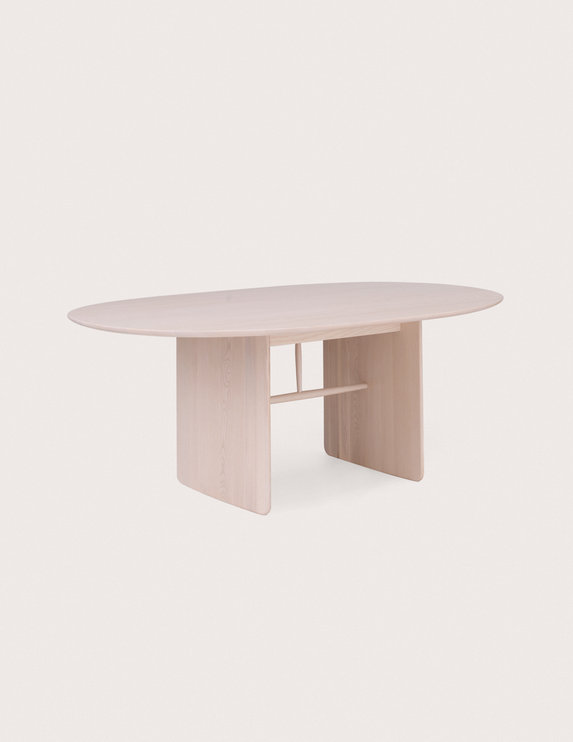 Ex Display
£1,999 RRP £4,500
Product Description Versatile and timeless, the organic curves of the PENNON SMALL TABLE serve as a tangible expression of Norm Architects' trademark Nordic minimalism. Designed in 2019 and built to last for generations, the oval form of the PENNON SMALL TABLE lends itself to a wide variety of contemporary living and dining spaces. The table's distinctive build was inspired by the structure of old biplane wings — with smooth, wide limbs that gently taper at their base and soft, moulded edges. Intuitively designed to allow for leisurely reclining, the handcrafted legs of the PENNON SMALL TABLE are thoughtfully positioned for optimal legroom and comfort. A traditional wooden spindle joins the two legs, cutting through the table's solid construction to create an alluring juxtaposition of delicacy and durability. Rendered with L.Ercolani's signature craftsmanship, the PENNON SMALL TABLE is a prime example of how beloved, traditional forms can be reinterpreted to delight and inspire modern audiences. The welcoming silhouette of the PENNON SMALL TABLE invites users to gather around and partake in the communal acts of dining, conversation and collaboration. Available in Ash and Walnut timber, the elemental warmth of natural wood is a soothing complement to the PENNON SMALL TABLE's clean-limbed form. The ash variation is offered in nine bespoke finishes, including a natural finish and the new MODERN TONES series by Christian Møller Andersen. Whether the goal is to stand out or blend in, the calming vitality of the PENNON SMALL TABLE effortlessly transforms into a synergized backdrop for life's most treasured moments.
Product Code

Description
Product Dimensions Width: 198cm Depth: 121cm Height: 75cm Product Weight 62kg Assembly Needs Assembling
Wood is a natural material, consequently the grain pattern will vary from piece to piece.
Cabinets and chests over 60cm tall should be fixed to the wall to ensure stability, anti-tip kits with fixtures will be provided. The fixing of these pieces to the wall will not be carried out by our delivery partner. Please follow the product instructions and immediately attach to a wall as stated.
Upholstered furniture, images and the fabric visualiser are designed to act as a guide of how a piece will look. Pattern placement, exact colour and texture of a fabric can vary from this.
Before ordering, we recommend viewing the fabric and wood finish in store and ordering samples to view at home.
While we endeavour to ensure that the stated dimensions are as accurate as possible, due to manufacturing tolerances, these may vary slightly.
Mattresses
ercol mattresses are made to order, and it is for this and reasons of hygiene, that we are unable to refund or replace any of our mattresses. This does not affect your statutory rights or apply if the product is faulty. Since the selection of a mattress is a very personal decision, we strongly recommend that you try the mattress in store, or here in the ercol showroom, prior to ordering. While we endeavour to ensure stated dimensions are as accurate as possible, due to manufacturing tolerances, these may vary slightly.